No Title
By Teo Rosos
Teacher: Karen Carter, Emerson School
Award: First Place, 4th Grade Art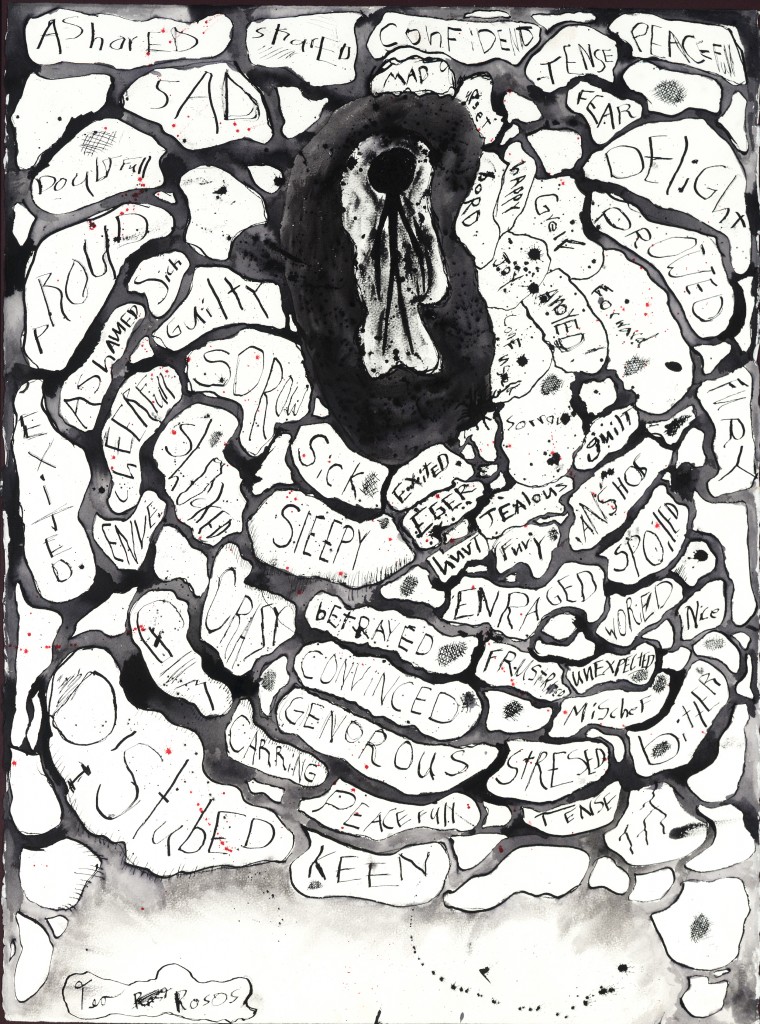 No Title
By Sydney James
Teacher: Sean Keller, Jefferson School
Award: First Place, 4th Grade Poetry
Mom is gone
Dad is too
I'm scared
what to do
"My Feelings"
By Claire Wolfenden
Teacher: Madhuvanti Khare, Berkeley Arts Magnet
Award: First Place, 4th Grade Essay
My feelings are always bursting out. I will tell what happens when my feelings come out of me or stay in my heart. Can you find any connections to what happens with you? I will tell you about the 3 main feelings: happy, sad, and mad.
Happy feelings can be inside or out. When I get happy, I like to express it. I help people out when I'm happy to make them feel happy to! You say hi, making a day better. Maybe do something you don't usually do, like clean your room.
Sad feelings can also be inside or out. All feelings are that way. When you're sad, you feel droopy. You don't want to do a lot of things. Most of the time you just want to sit and be moopy around your room or house. Sad isn't the best feeling, but it is always around!
Put on your mad face! Mad can be very aggressive! Someone can say something about you and you can get mad very quickly. Or maybe a teacher or parent scolded you. You might be very mad at them. Whoever you're mad at, it should never be for no reason. You should know what reason you're mad for.
Happy, sad, or mad? All of them are good as any other. Each feeling has its own personality. There's always differences in the feelings. It could be big or small. There always the same old feeling you feel every day.
No Title
By Ana Westland-Hurwitz
Teacher: Tiffanie O'Neill, Thousand Oaks School
Award: Second Place, 4th Grade Art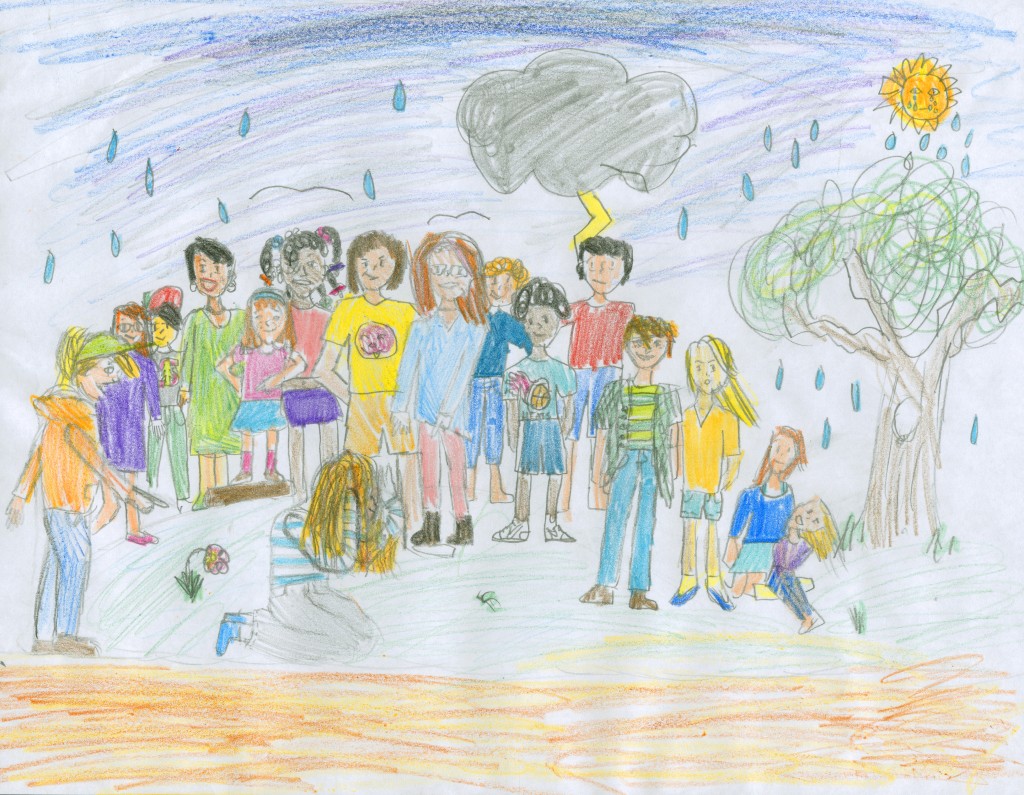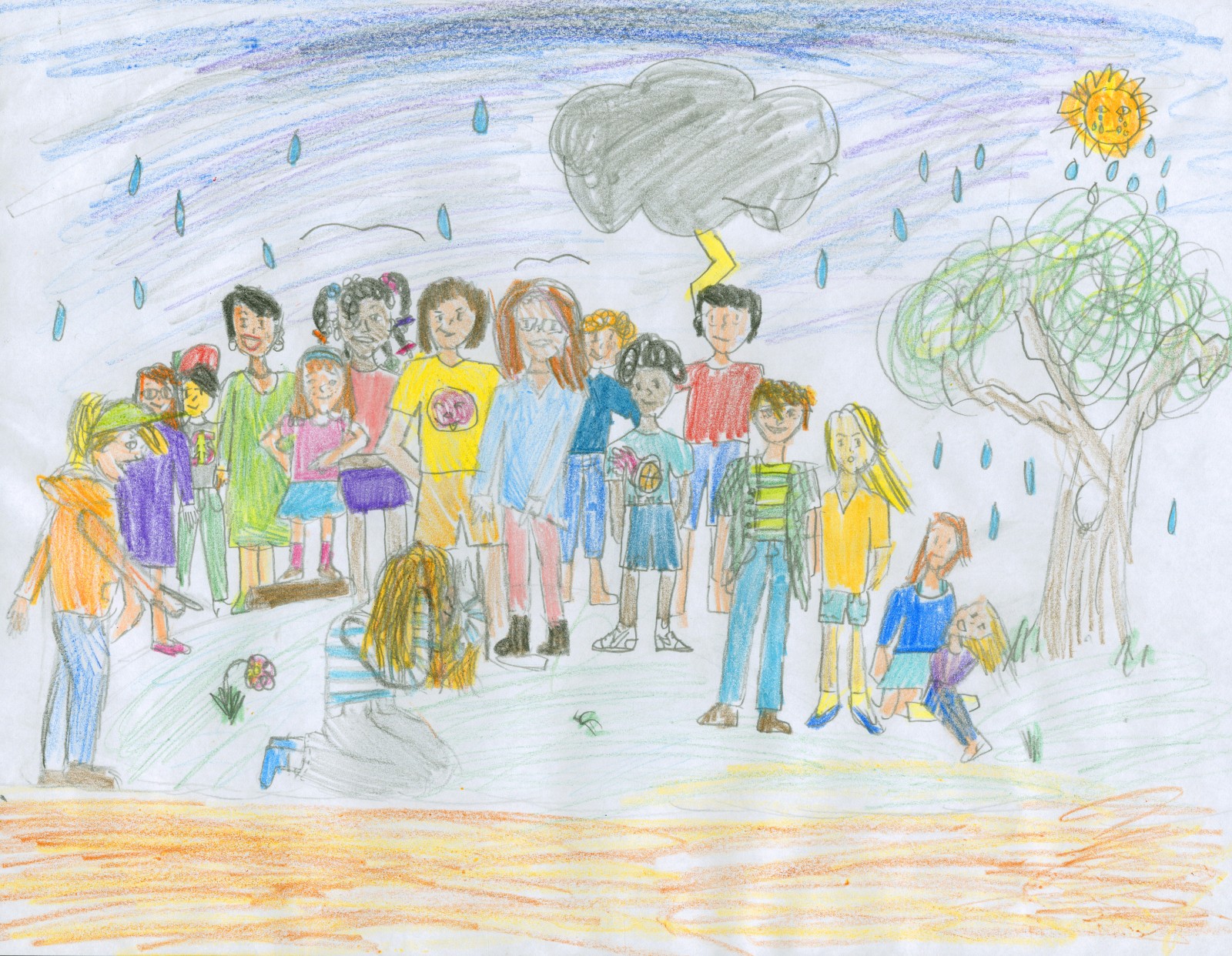 "Feelings"
By Leah Chang
Teacher: Madhuvanti Khare, Berkeley Arts Magnet
Award: Second Place, 4th Grade Poetry
Feelings are like
different spots of light
floating in your mind
like snow balls flying through the chilly air
like a morning sun rising above icy waters
"M"
By Teddy O'Brien
Teacher: Dawn Bail, Washington School
Award: Second Place, 4th Grade Poetry
Mad is constantly growing and shrinking.
Mad is at the peak of mount anger.
Mad is only heard sometimes.
Mad's favorite food is vengeance.
Mad is blaming his mistake on you.
Mad is a grenade with the pin half pulled.
Mad is the shadow that hides behind you.
Mad is partially insane.
"My Feelings are Like the Weather"
By Ezra Rabinowitz-Berg
Teacher: Barry Fike, Jefferson School
Award: Second Place, 4th Grade Essay
Sometimes the sun shines bright.
Like when I'm backpacking in the woods with my dad or playing in a winning soccer game with my teammates in the coliseum with crowds cheering and the dragon flying high above.
Other days I feel cold and cloudy.
When I think about what it is to feel like to be nothing or when my mom is gone on a trip far away and the dragon swoops down low to see in my window at night.
It thunders and flashes.
When I'm banished to my room because I haven't done my chores and I stomp up to my room, slam the door and kick the toys and books on the floor. Or when my friends decide not to allow me into their club that day at lunch. The dragon sits in the almond tree and nostrils flare with a fire that only I can see.
Rain rarely comes.
But when it does I think about my grandfather far away who will never leave his hospital bed and I may never see him again. And when I split open my lip falling on concrete. As the ground hits my face, blood is rushing out of my mouth. I am left in shock, looking into the mirror, and then rushed away to the hospital. The dragon lowers his head and breathes out slow wisps of smoke, waiting for the rainstorm to pass. It would be easier to not have feelings.
But I would miss the dragon.
"No Title"
By Toby Howard
Teacher: Tara Easley-Fouche, Malcolm X Magnet
Award: Third Place, 4th Grade Art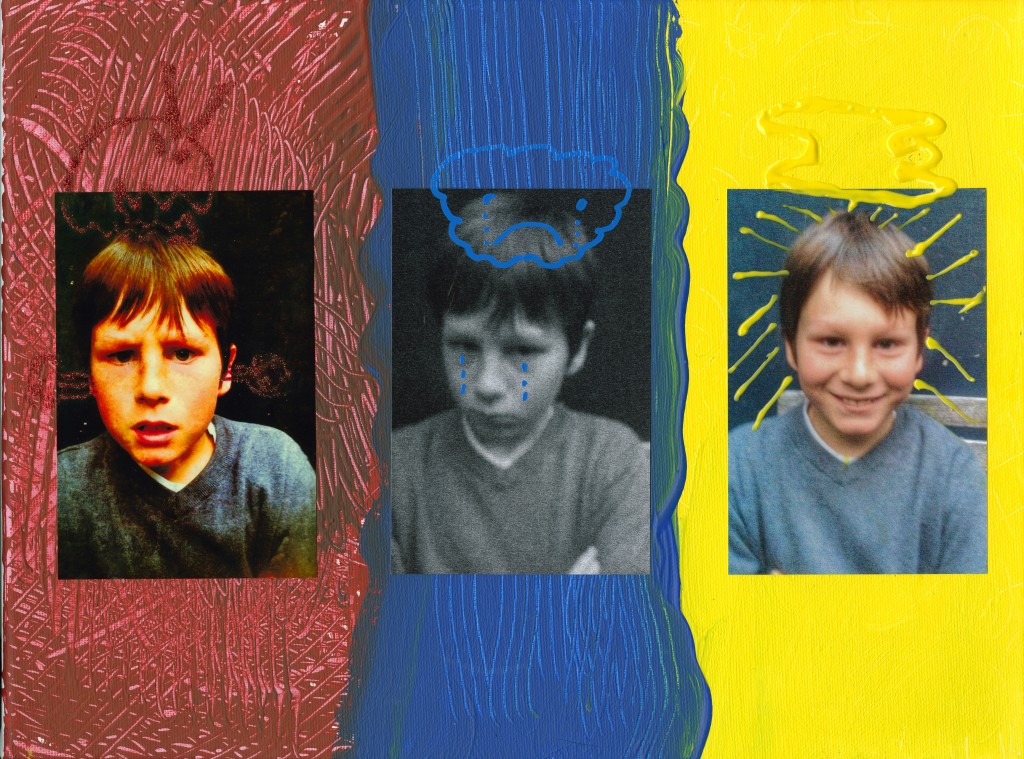 "An Old Man Happy"
By Alonzo Macias Moreno
Teacher: Dawn Bail, Washington School
Award: Third Place, 4th Grade Poetry
An Old Man Happy is giving food to the birds.
A Old Man Happy is tapping his shoes to the Senior Center.
A Old Man Happy is him looking at the time for
his family to get out of work to come home.
The Old Man welcoming his family at home.
The Old Man try to be a wonderful grandpa.
The Old man giving kisses to his family on the cheek.
The Old man saying "I love you."
The Old man dying happily.
After he died his spirit came and said, "Thanks you
for all these years, family."
"Scared"
By Isaac Rodriguez Paz
Teacher: Dawn Bail, Washington School
Award: Third Place, 4th Grade Poetry
Scared is in a scary movie
Scared is in a old broken house
Scared visits bad dreams
Scared is running in a fast beating heart
Scared tries to think about good things
Scared needs light to eat in the dark
Scared lives in shivers
Scared is at a graveyard at night
Scared lies in sweaty hands
"Tools for Keeping Your Cool"
By Kai Teigen
Teacher: Tara Easley Fouche, Malcolm X Magnet
Award: Third Place, 4th Grade Essay
There are four tools from our classroom toolbox that I find very useful, but they take different amounts of time to use effectively. Below is a chart showing how long it takes me to use each tool and an explanation of how they work for me.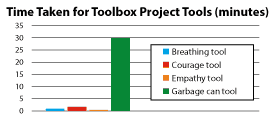 I'll start with the breathing tool, my favorite. It is used to calm oneself by slowing one's breathing. It works well for me because my breathing affects my emotions. The breathing tool calms me down in approximately 1 minute. I think it should be used in situations when you feel you will blow your top if you don't calm down immediately.
I will now move on to the courage tool. It is used to muster up bravery to allow me to conquer my fears. It works quite well for me, because I've found that if I think good thoughts, things don't seem quite as scary. The courage tool takes 2 minutes to muster up my courage.
Next I'll discuss the empathy tool, which I use a lot. It allows me to put myself in someone else's shoes and only takes me 20 seconds to use because I can always think of something that I have felt that they could be feeling.
I'll now move on to my last tool, the garbage can tool. Like the empathy tool, I use the garbage can tool often because I have a lot of troubles. The garbage can tool helps me "throw away" my small troubles. It takes me about 30 minutes to do that, because once I get angry about something, it takes me a while to let it go.
As you can see , the breathing, courage, empathy, and garbage can tools are a powerful kit for dealing with one's feelings and will come in handy often.
"Quiet Safe Place Tool"
By Erin Bartholomew
Teacher: Tara Easley-Fouche, Malcolm X Magnet
Award: Honorable Mention, 4th Grade Art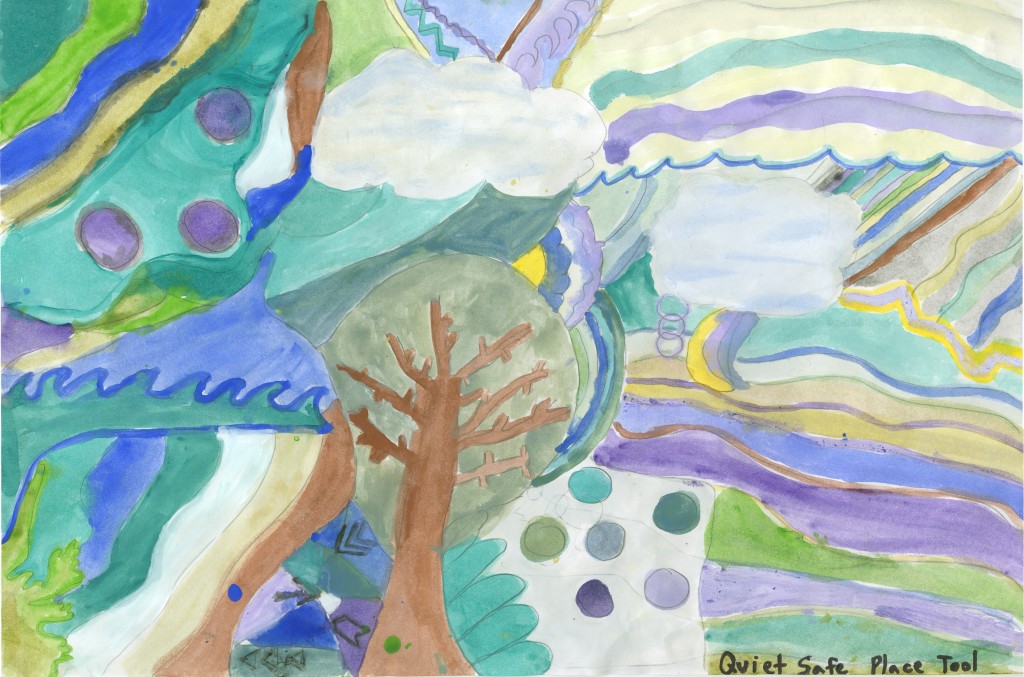 "Emotional Spiral"
By Skye Baseam
Teacher: Rosa Chavarria, Emerson Schol
Award: Honorable Mention, 4th Grade Art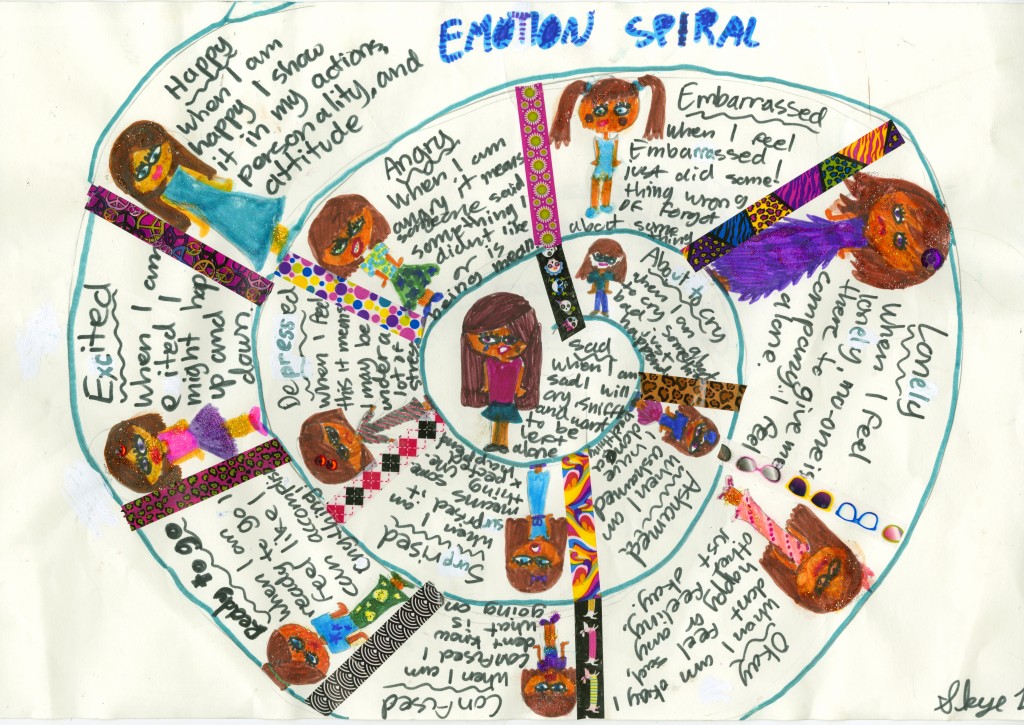 "War of Feelings"
By Mohit Reddy
Teacher: Madhuvanti Khare, Berkeley Arts Magnet
Award: Honorable Mention, 4th Grade Essay
Feelings are a war between good and not so good. The battle of man-kind which starts all wars. When it starts with hate, it will control your brain.
You have to choose a side. You can either be mad or happy. If you make the wrong choice it may cost your life.
Love conquers hate. Hate cannot drive out hate, only love can do that. You have to have faith in you to see who will win. The victor will be the one who first feels love in their heart.
Love is the key.
"Car Crash!!!!"
By Sydney James
Teacher: Sean Keller, Jefferson School
Award: Honorable Mention, 4th Grade Essay
After a long, hard day at preschool I was tired and I wanted to go home. My favorite teacher, Miss Christine took me into the teacher's lounge. I was the only kid who ever went into the teacher's lounge. All the teachers thought that I was a good secret keeper and my parents were almost always late. That's why I was there. Miss Christine and I had a special bond. Even now, as a fourth grader, I still hang out with her and now she has a kid of her own named Samantha.
Out of nowhere, the principal of the preschool walked into the room looking worried and said, "Sydney, your parents got into a bad CAR CRASH !!!! Everyone in the room seemed to freeze as these words hit me. They all moved in slow motion like how a movie does at important parts. I froze and stood still. Soon, things were moving at a normal pace. My face went pale and I was scared. What was I going to do? I wanted my sister. I wanted my parents.
Miss Christine took me back to my classroom. All the other kids had gone home with their parents. I felt so alone. Miss Christine gave me some paper and a pencil. Drawing always helped me to calm down, but this time I couldn't draw. I was freaking out. Were my parents ok? What was going to happen next? When would I see them again?
Suddenly the door opened and it was my Mom and Dad! I was so relieved, happy and overjoyed. I jumped into Dad's arms and kissed Mom on the cheek. It was so good to see that they were alright. I squeezed them both as tight as I could. I didn't want to let go.
Mom told her side of the story. She was driving and slammed into a truck the size of a giant and totaled our car. The entire front end was smashed like a pancake and it couldn't drive. The tow truck lady drove us to our house and dropped us off. She told us we had to be super thankful that our family was safe. We said goodbye and then we got into our other car and this time, Dad drove.
"Life Tribute"
By Lola LaBang
Teacher: Rick Kleine, Jefferson School
Award: First Place, 5th Grade Art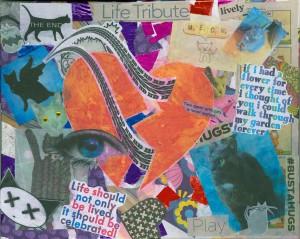 "Not Enough"
By Leila Mirza
Teacher: Rick Kleine, Jefferson School
Award: First Place, 5th Grade Poetry
Luscious Cheeseboard scones
Crispy baguettes, hot from the oven
Gooey chocolate things
Smells that make my mouth water
I walk outside savoring my treat
Then I see him A weary old man
Sitting on a blue crate
An empty jar in front of him
Cheerful people bustle past
Not seeing him
Not noticing his need
No empathy
He watches silently
As they shop, talk, laugh
I am angry
Angry at those clueless people
Angry that I'm one of them
I give him my only dollar
Not enough
He looks at me
Thank you
We see each other
"When Something Changes Everything"
By Naomi Rubalcava Levinthal
Teacher: Rick Kleine, Jefferson School
Award: First Place, 5th Grade Essay
When my twin, Alice, was diagnosed with Lupus (which is an autoimmune disease) it didn't faze me. I guess I thought it was like a cold, and in little while it would go away. But it didn't. What it did do was force my sister to start taking medication such as steroids and immune system suppressing drugs. She also has to go to Stanford once a month to see a specialist called a rheumatologist. All of this happened so fast.
I would lie awake trying to catch the words of my parents' hushed discussions. When I went to Stanford with Alice and my mom, I sat out in the waiting room anxious to find out what was happening, yet knowing I never would. It felt as if everyone around me was lying to me. Whenever my parents talked to me it would feel like tiny little fists were clenching and unclenching themselves in my stomach. It made me so furious that I wished I could just blow up in an earsplitting explosion.
I knew that it wasn't fair for me to be angry. Whatever Alice was going through was ten times worse than what I was feeling. The medicine that she was taking made her think horrifying things. She spent every day struggling to move because her joints hurt so much, and being overwhelmed by guilt when she did something as small as bumping into someone. Because of this I had to learn to be empathetic.
Today my sister is doing much better. Even though my sister getting Lupus was a terrible thing, because of it I have learned many things about myself, and my relationship with her is much stronger. I hope that she never gets sick again, but if she does I will be there for her because I learned how to feel empathy.
"Scared, Happy, Sad, Proud, Mischievous, Mad"
By Milo Klise
Teacher: Ashley Foster, Oxford School
Award: Second Place, 5th Grade Art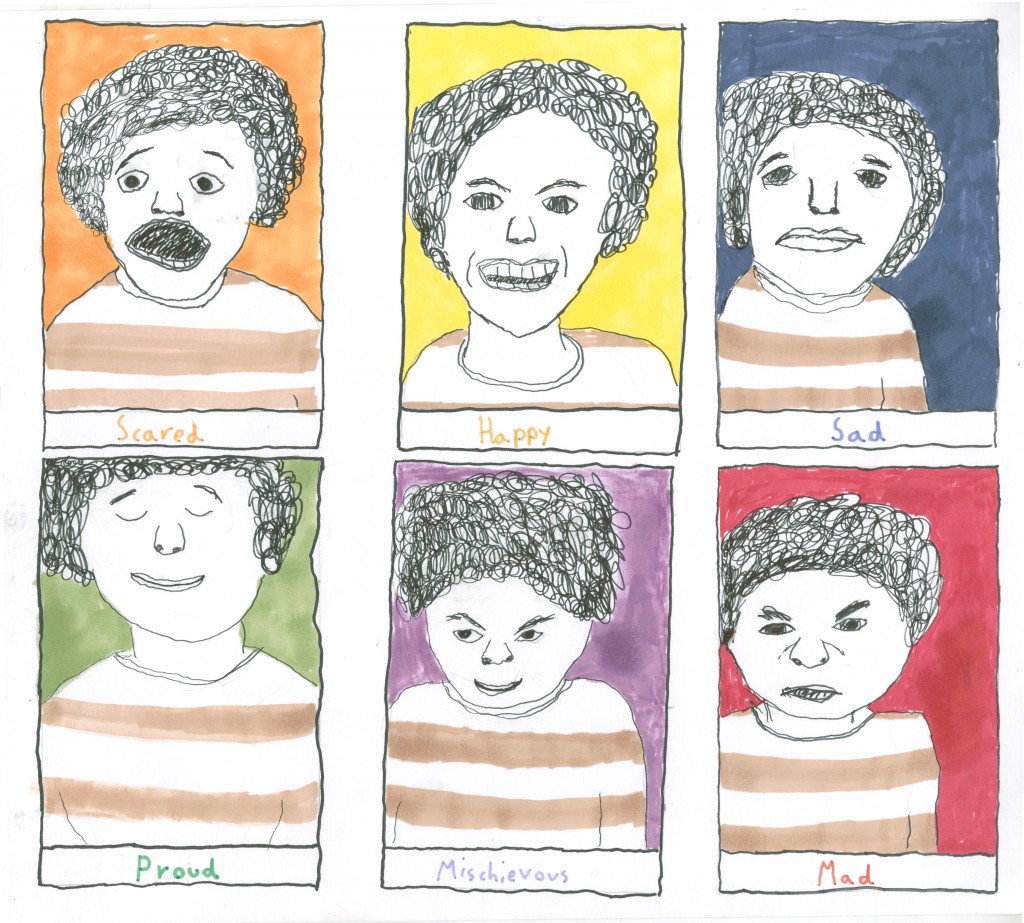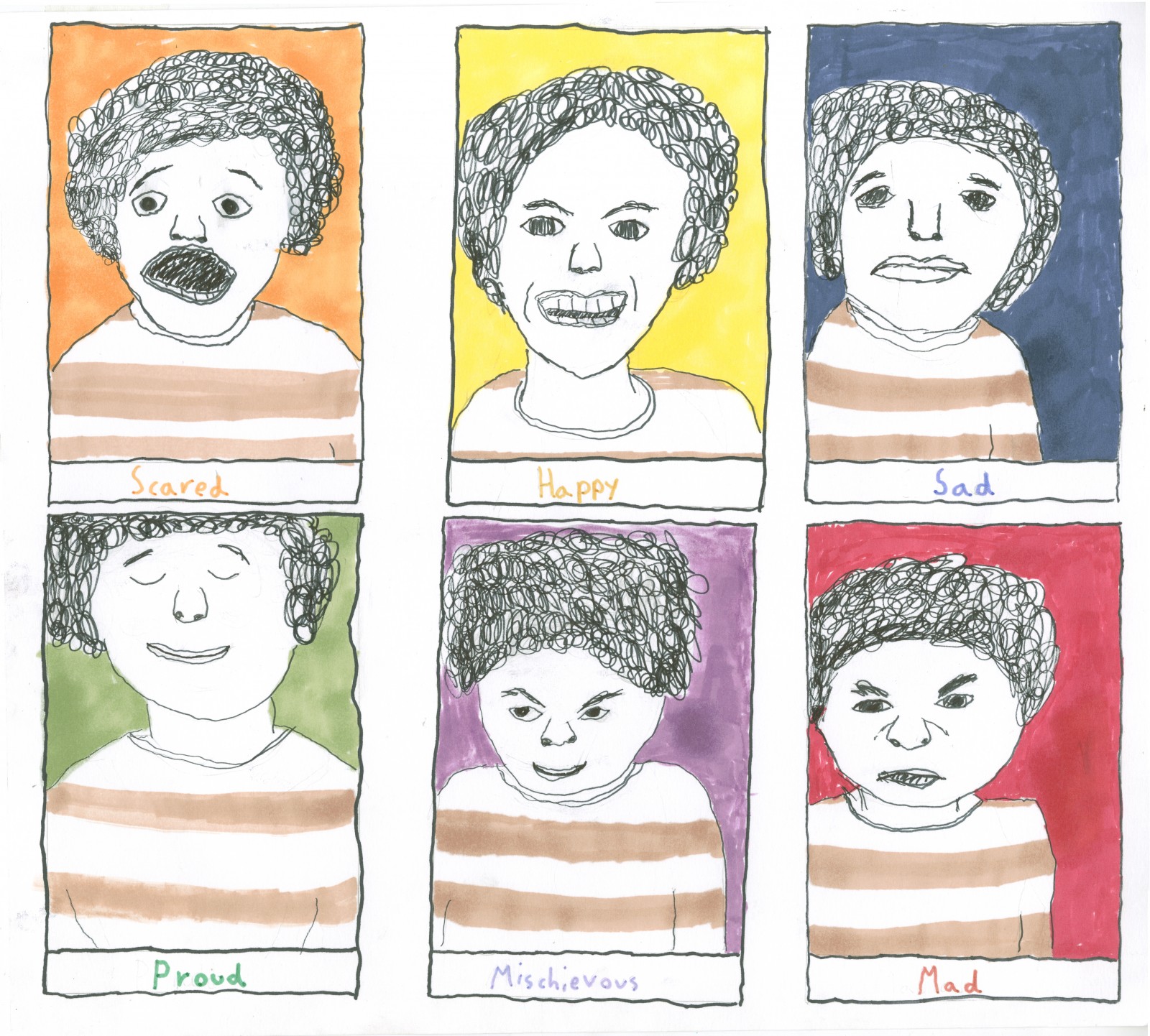 "Happy"
By Leila Mirza
Teacher: Arun Khanna, Jefferson School
Award: Second Place, 5th Grade Poetry
HAPPY IS THE START OF SUMMER
HAPPY IS A ROOM WITHOUT A ROOF
HAPPY IS A FLASHLIGHT BEAM IN A DARK
ROOM, A ROOM WITH A ROOF
HAPPY IS THE SCHOOL BELL RING
HAPPY IS A PUPPY'S WAGGING TAIL
HAPPY IS AN ANT IN A SUGAR BOWL
HAPPY IS DOGS PLAYING ON THE BEACH
AND HAPPY IS ME! MOST TIMES …
"My Grandmother's Death"
By Vincent Adair
Teacher: Rick Kleine, Jefferson School
Award: Second Place, 5th Grade Essay
I was in the hospital hoping that nothing worse would happen to my grandmother. My cousin and I were making loom bracelets and told my brother to put them on her. I went Into her room and she wouldn't say anything. I looked at the doctor and he said, "Soon." I knew what he meant. My cousin and I ran out crying. If my mom didn't say, "Stop crying" I could have made a mountain of tissues. We sat and waited for a miracle but the miracle jar was empty. The doctor came in and we knew what he was about to say. We made an ocean of tears but really it was just a puddle. Inside my body was a raging storm. It was getting stronger and stronger. I screamed "NO !" I still have the memory carved in my head and a missing piece in my heart.
"My Feelings are a Puzzle"
By Angel Ferguson
Teacher: Jenny Weddle, Emerson School
Award: Third Place, 5th Grade Art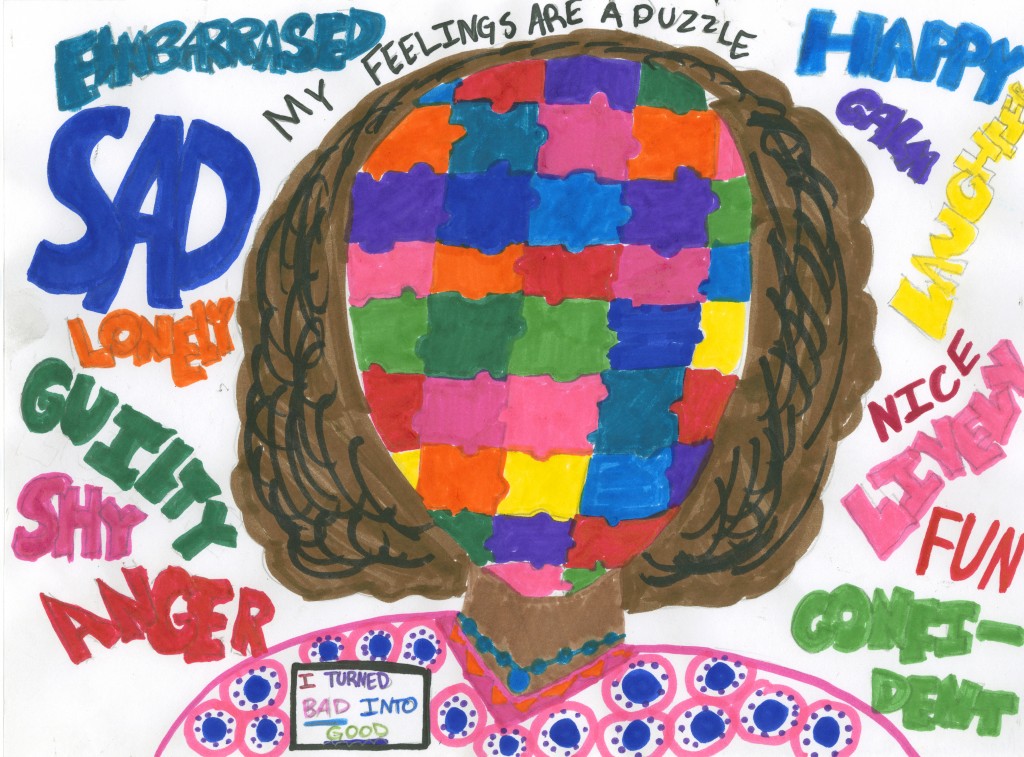 "Alone"
By Nia Markham
Teacher: Rick Kleine, Jefferson School
Award: Third Place, 5th Grade Art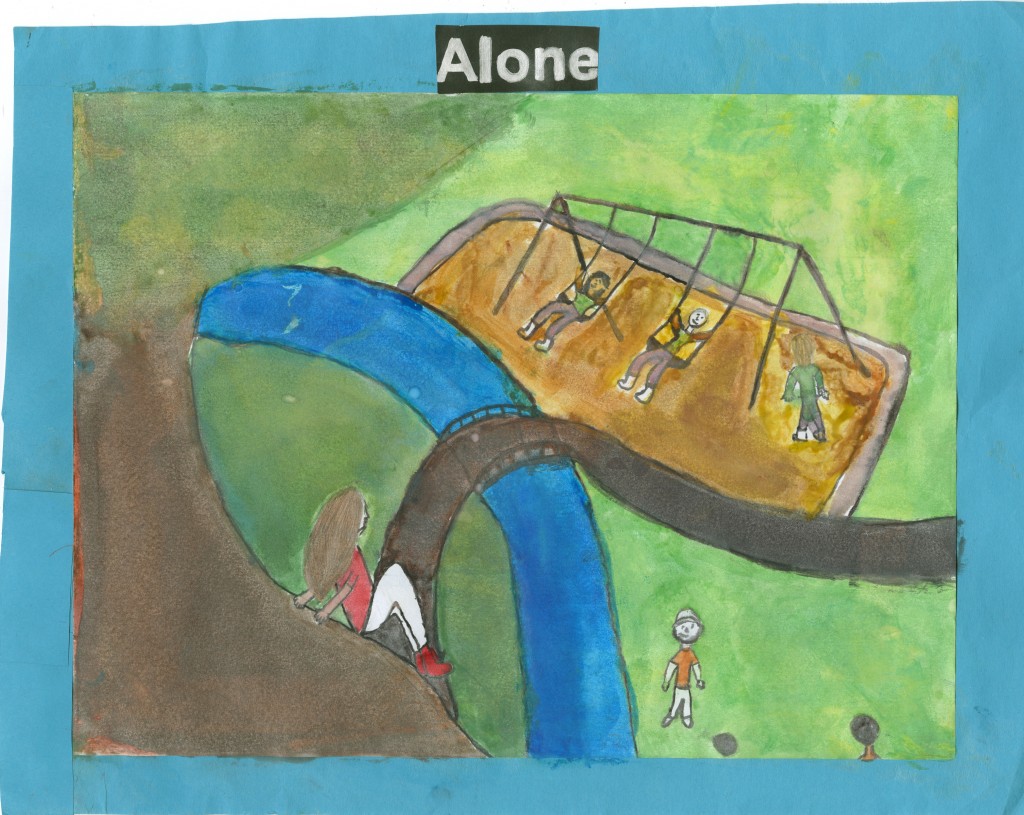 "Alchemy of Me"
By Schuyler Simon-Thomas
Teacher: Amy Fry, Malcolm X Magnet
Award: Third Place, 5th Grade Poetry
There are ups and downs in my life
It's an ever changing schedule
I am tied up in knots that I tie myself
There is no start, no end to this labyrinth of life
Just erupt
Never give up
Break free
Find the key
Open the door and walk through
Take all the risks you need to
Look into the light and remember
You have to transform your pain to mettle to live a happy life
"In the Classroom"
By Casey Galvin
Teacher: Maggie Knutson, John Muir School
Award: Third Place, 5th Grade Essay
In the classroom…
Someone calls me a name.
Inside my head, a war is waged.
"Charge The Anger yells as it attacks the small village where the Calm live. It runs forward and breaks down doors of the little huts as it tries to take control of me. The Nice try to defend the Calm but they are no fighters. Soon the anger has taken control.
"STOP IT" I scream and I push the person backwards.
In rush more Calm, and the Anger wonders where they have come from.
My friends rush over. "It's okay" they say.
The battle is changed. As new Calm rush in the Anger is overwhelmed. The Calm regain control and the Anger retreats.
I take a deep breath.
The peace is now back in my conscience.
At recess…
I see a bully on the playground, pushing around one of my classmates.
A tiny town is in control now. This town is where Doubt lives.
"What if he bullies me next? What could I do against someone like that?" These are the things spreading through the little town. The neighboring city's representative comes in. That city is Confidence. "We need to do something about that bully." Confidence says matter-of-factly. "If that bully gets let off the hook again and again he will keep doing it without knowing who he's hurting"
"Let's do it" Doubt says and shakes the Confidence's hand. Now Confidence takes control.
I walk over and say to the bully "Don't mess with my classmate." I could tell nobody had stood up to him before. He stormed off.
Later that day…
All my friends walk with me after school.
The large city of happiness is now in motion. When they take control from boredom I feel a rush of good feelings. I am happy.
"Music"
By Anna Keaveny
Teacher: Arun Khanna, Jefferson School
Award: Honorable Mention, 5th Grade Poetry
My anger
Is a red hot
volcano
ready to erupt.
Needing to do something,
I slowly
piece my saxophone
together.
Focusing all my
energy
on this one task.
Carefully
taking big breaths.
Blowing in,
and out.
The pads,
cool to the touch.
I play softly.
The sounds
of "The Ash Grove,"
my favorite song,
ripple through me
like a calming wave
crashing over
the volcano.
The sounds of "America"
turn the rough rocks
into a smooth sculpture.
Finally,
the strong beats
of "Eire Canal"
soften the booming, red day
into a sunny,
yellow paradise.
"Freedom"
By Aria Ishimaru
Teacher: Maggie Knutson, John Muir School
Award: Honorable Mention, 5th Grade Poetry
It wasn't you
It wasn't me
It was my insecurity getting the best of me
my heart needs a key but I can finally be free
something inside me is saying when will I open my eyes and see
life isn't easy
it's all about the popularity
it's about the hair and what you wear
but I don't care it's not fair
I don't care it's not fair
I can't play sports
cause we're put in a box
but now I don't care
its time to change this cause now I'm free
I have found my key and now I can see
"My Feelings and Me"
By Waleed Hauweidi
Teacher: Yusef Auletta, LeConte School
Award: Honorable Mention, 5th Grade Essay
I had really hard challenges in my life. My dad died when I was eight years old ! Now I live with my mom and my brother. I use the tool box a lot of times because people bully me.
Like once on a field trip I sat in the back of the bus. Then two minutes later they said, "I spy with my little eyes an Arab that's sleeping on the bus." Then I used the breathing tool. Then I told the teacher and they got in trouble. The happiest day of my life is when I got the nickname "Lebanese Laser". That's the end of my story!
"My Dad is Special to Me"
By Ailua Guardia
Teacher: Rick Kleine, Jefferson School
Award: Honorable Mention, 5th Grade Essay
For the third time in a row my birth dad didn't come and pick us up on CHRISTMAS EVE. I knew it was going to happen. So when I looked at Jayson, my stepdad, I knew that he was going to be my dad for the rest of my life. My dad is special to me because he fights for me, because he pushes me to do my best, and because when I'm down he puts me back up. I love my dad.
My dad is special to me because he fights for me. One time my dad said that I could take my skateboard out to the park, but my mom said no. My dad said, "Why not?" She said because I had left my skateboard at the park once or twice, so she didn't trust me. My mom and dad had a little fight about it and my mom told him why I couldn't bring it and my dad said ohhhh. But at least he tried. This shows how my dad will always fight for me.
Another time is when I was at basketball practice. I had the ball in my hands and my friend tried to take it from me. Then I push him off. After I push him off he comes back and starts to strangle me. We all had a big conversation about it and my dad told him that he shouldn't be putting his hands on other people. He talked to the grownups about it and told them I was just defending myself. They had a long talk about it but after he told me that I wasn't in trouble and said I was ok. I felt better because he fought for me. This shows that my dad will always fight for me. I know that I can trust him.
My dad is special to me because he pushes me to do my best. When I was doing my jog-a-thon, I was about to give up and only run 18 laps but he had set a goal for me. He wanted me to do at least 23 laps around the whole school. I started jogging faster and the next thing I know I'm starting to sprint. My mom and dad start cheering for me. After it was done I had counted 25 laps. I went over my goal!!!! My dad was proud of me. This shows that my dad will always push me to do my best.
Another time with my dad I was talking while he was holding my report card. He gave it back to me. "You're grounded for the whole semester and if you don't get better grades you will be grounded for the whole summer!" I knew that I didn't want to be grounded for so long so I had to make more progress. The next semester came and I got way better grades because my dad told me that I had to step up and he believed in me. He helped me be the best I could so that I wouldn't get bad grades again. This shows that my dad will always push me to do my best.
My dad is special to me because whenever I'm down he puts me back up. For example I was at school and people were saying bad things about me. I come home and talked to my mom and dad about it and my dad said not to believe them and he said that they don't know what they are talking about. He convinced me not to listen to them and not let them bully me around. I felt a lot better because of what he said. This shows that whenever I'm down, he will always put me back up.
As I'm saying this I'm realizing that when people put their hands on me, when I need someone to push me to do my best, and someone to put me back up when I'm down, that it will be my dad. There will never be anyone like him, none will be like my dad, JASON.